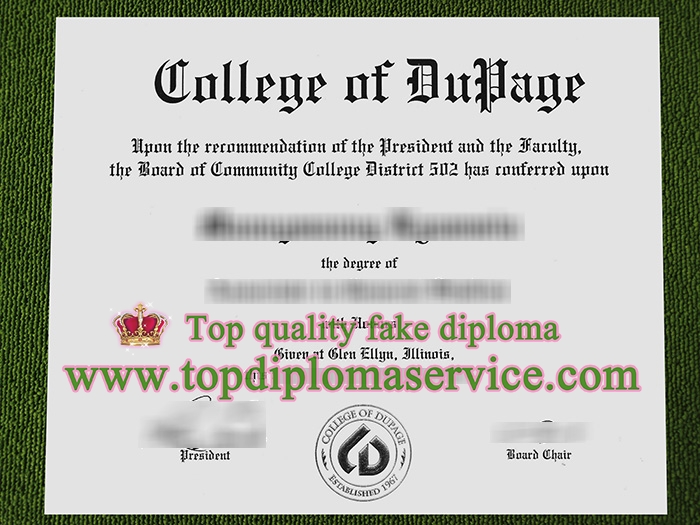 Steps to make a fake College of DuPage diploma, replica College of DuPage certificate, make a college diploma. College of DuPage was established after the Illinois General Assembly adopted the Public Community College Act of 1965 and the approval of DuPage high school district voters in a referendum. The college opened on September 25, 1967, under the leadership of the College's president, Rodney K. Berg, and Board of Trustees Chairman George L. Seaton. At the time, classes were held in office trailers and leased suburban sites throughout the newly established Community College District 502. Due to the college's students, faculty and staff having to drive from building to building for classes, the chaparral was adopted as the school's mascot. That year, The Courier, the school's student newspaper, published its first issue.
In 1968, the Glen Ellyn campus location was acquired. A year later, three interim buildings were constructed west of Lambert Road in Glen Ellyn. The Berg Instructional Center, the college's first permanent building, opened in 1973. WDCB, a public radio station owned by the college, was founded in 1977. Harold D. McAninch was appointed as the college's second president in 1979. In 1982, the college began publishing the Prairie Light Review, a literary magazine. The Student Resource Center (SRC) and Physical Education and Recreation Center opened in 1983.
The McAninch Arts Center was built in 1986. In 1990, the Seaton Computing Center was built and housed computer-specific classrooms for the Computer Information Systems, Computer and Internet working Technologies, and Office Technology Information programs. A year later, the college opened new campus locations in Naperville and Westmont, Illinois.
Michael T. Murphy became the college's third president in 1994. In 2002, voters approved a $183-million bond referendum that provided funds for renovating and rebuilding the Glen Ellyn campus and off-campus locations. Funds from the referendum were used to build the Homeland Security Education Center, the Student Services Center, and the Culinary & Hospitality Center. In 2003, Dr. Sunil Chand replaced Murphy as the college's president. That year the College expanded with the opening of the Bloomingdale Center for Independent Learning. The Carol Stream Community Education Center opened in 2004 and the West Chicago Community Education Center in 2005. In fall 2005, College of DuPage converted from a quarter system to a semester system.