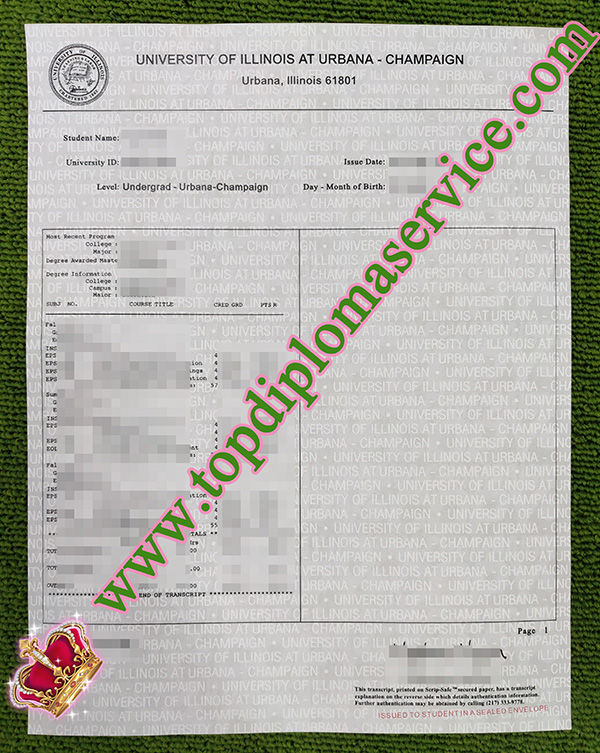 How to make a fake University of Illinois transcript with better scores, buy fake University of Illinois transcript, order fake UIUC diploma and transcript, replica a University of Illinois at Urbana-Champaign transcript. The University of Illinois, originally named "Illinois Industrial University", was one of the 37 universities created under the first Morrill Land-Grant Act, which provided public land for the creation of agricultural and industrial colleges and universities across the United States. Among several cities, Urbana was selected in 1867 as the site for the new school. From the beginning, President John Milton Gregory's desire to establish an institution firmly grounded in the liberal arts tradition was at odds with many state residents and lawmakers who wanted the university to offer classes based solely around "industrial education". The university opened for classes on March 2, 1868, and had two faculty members and 77 students.
The Library, which opened with the school in 1868, started with 1,039 volumes. Subsequently, President Edmund J. James, in a speech to the board of trustees in 1912, proposed to create a research library. It is now one of the world's largest public academic collections. In 1870, the Mumford House was constructed as a model farmhouse for the school's experimental farm. The Mumford House remains the oldest structure on campus. The original University Hall (1871) was the fourth building built; it stood where the Illini Union stands today.
In 1885, the Illinois Industrial University officially changed its name to the "University of Illinois", reflecting its agricultural, mechanical, and liberal arts curriculum.
During his presidency, Edmund J. James (1904–1920) is credited for building the foundation for the large Chinese international student population on campus. James established ties with China through the Chinese Minister to the United States Wu Ting-Fang. In addition, during James's presidency, class rivalries and Bob Zuppke's winning football teams contributed to campus morale.