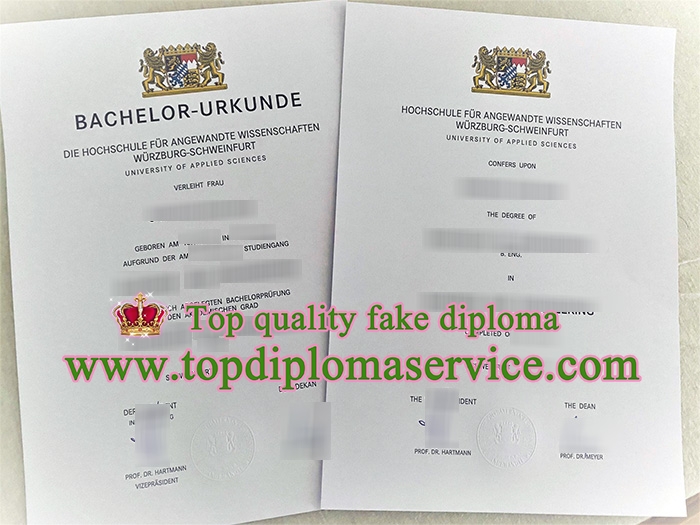 Steps to order fake Hochschule für Angewandte Wissenschaften Würzburg-Schweinfurt urkunde, buy fake FHWS diploma, fake Germany diploma. The University of Applied Sciences Würzburg-Schweinfurt (Hochschule für Angewandte Wissenschaften, formerly Fachhochschule, still abbreviated: FH|W-S) is a technical university in Germany, which was founded originally in 1807, and was restructured during 1971. The university is among the best applied sciences universities in Germany with over 150 partner universities worldwide. The university is located in Bavaria with campuses in Würzburg and Schweinfurt.
The history of today's University of Applied Sciences Würzburg-Schweinfurt dates back to 1807 and is linked with three previous institutions: the Balthasar-Neuman Polytechnic of the district of Lower Franconia, the Würzburg Commercial College and the Würzburg School of Applied Arts.
Following the passing of the Bavarian Technical University Law of 1970 (Bayerisches Fachhochschulgesetz or FHG), the current university opened its doors on 1. August 1971 with 1566 students and courses in seven subjects. The Würzburg campus offered courses in architecture, civil engineering, business administration and graphic design, while in Schweinfurt students could choose between electrical engineering, mechanical engineering and industrial engineering. In the following years new courses were added including social work (1972), plastics engineering (1973), computer science (1975), nursing management (1995), business economics (1998), Business informatics (2000), media management (2000), computational engineering (2003), logistics (2008) and robotics (2020).
Between 1991 and 2000 the university developed a new campus in Aschaffenburg, initially offering business economics and from 1997 electrical engineering. In 2000, this evolved into the independent University of Applied Sciences Aschaffenburg.
On 14. February 2003, the then minister of science, Hans Zehetmair, laid a foundation for a circular teaching building in Schweinfurt extending to 3000m² and costing almost 14.5 million euros. In the basement of the building there are modern student computer pool rooms. On the first floor a spacious assembly hall (Aula) offers a venue for events and conferences. arranged in a circle around the central space are deans' offices, administrative offices and the largest auditorium of the building. On the second and third floor of the building, constructed of reinforced concrete and aluminium, there are air-conditioned multimedia rooms. The building was opened by the minister of science, Thomas Goppel, on 4. October 2004. Since then, most of the courses in Schweinfurt have been held in these new premises. The older buildings in Schweinfurt have mostly been vacated and since 2004 been extensively refurbished.